! DOCTYPE HTML PUBLIC "-//W3C//DTD HTML 3.2//EN">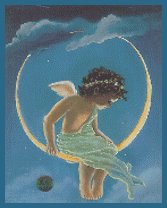 When somebody dies, a cloud turns into
an angel, and flies up to tell God
to put another flower on a pillow.
A bird gives the message back to
the world, and sings a silent prayer
that makes the rain cry. People dis-
appear, but they never really go away.
The spirits up there put the sun to
bed, wake up grass, and spin the
earth in dizzy circles. Sometimes you
can see them dancing in a cloud during
the day-time, when they're supposed
to be sleeping. They paint the rain-
bows and also the sunsets and make
waves splash and tug at the tide.
They toss shooting stars and listen to
wishes. And when they sing wind-
songs, they whisper to us, don't
miss me too much. The view is nice
and I'm doing just fine. - Ashley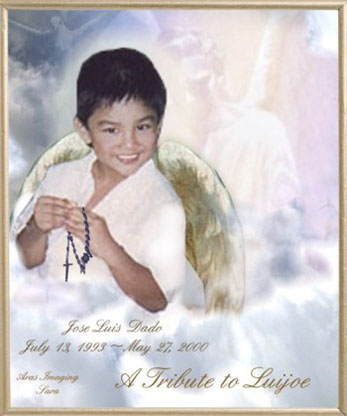 On May 27, 2000 our 6 year old Luijoe
became an angel and a saint...

Contact Information : Email Noemi , mother of Luijoe at noemidado@gmail.com if you want to talk about your grief. The Compassionate Friends Philippines has just been launched. Please visit Compassionate Friends Philippines for more details. The Compassionate Friends is an international non-profit, self-help support organization offering friendship and understanding to families grieving the death of a child - of any age, regardless of the cause.


Special thanks to Sara 's Aras Imaging and
Danny Halmbohm's Spiritual Art Works for the beautiful angel image of Luijoe.